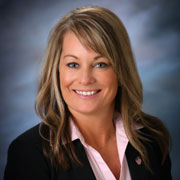 Working together to make sure all Idaho students succeed in education and in life
Hi, I'm Sherri Ybarra, Idaho Superintendent of Public Instruction. I wanted to be a teacher since second grade. My favorite teacher was Miss Nadolski in third grade, and when I did student teaching in college, I was back in Miss Nadolski's third grade classroom.
I got my own third grade classroom soon after, launching a nearly two-decade career in Idaho education and forming an abiding love for Idaho and its educators. I still live in Mountain Home with my husband, an Air Force veteran and federal police officer. Our son attended public schools in Mountain Home, and he is now a junior at the University of Idaho.
After 11 years as a third-grade teacher, I became a vice principal, principal and federal programs director for the Mountain Home School District. During that time, I earned a master's in educational leadership at the University of Idaho, and then my educational specialist degree with an emphasis in the superintendency.
In 2014, I decided it was time to try to change the culture in Idaho schools statewide, striving to make sure every student gets what they need to succeed in school, career and life. Since I took office as Superintendent of Public Instruction seven years ago, I have made it my top priority to encourage, support and help our schools and teachers to improve education outcomes rather than blaming and shaming them.
Now, in 2021, we're facing unprecedented challenges with a long-running pandemic creating a divisive political climate. As we move through our third school year of COVID-19 disruption, it is more important than ever to pull together in our shared commitment to Idaho's children and our shared future.
The two core priorities for Idaho throughout this school year are addressing the academic impact of lost instructional time and the challenges to student, staff and community wellbeing created by COVID-19. And we continue our focus on improving literacy for our youngest students and preparing older students for careers.
The aim of this website is to provide resources to educators and families, from free online tutoring and an array of useful links for parents and educators to detailed information on regulations and reporting requirements to connect districts and charter schools with federal funding and information in all areas of school services. Feel free to browse through our varied departments to learn more about everything from content standards, mastery education and assessments to school lunch programs, student transportation, busing, special education and migrant education, plus much more.
Sincerely,

Sherri A. Ybarra, Ed.S.
Superintendent of Public Instruction
---