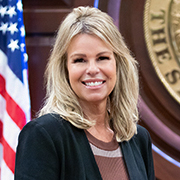 Debbie Critchfield
Superintendent of Public Instruction
Hello and thank you for your interest in Idaho education! My name is Debbie Critchfield and I am honored to be the state's Superintendent of Public Instruction. I am here to serve our students, educators, parents, and communities.
My husband Dave and I raised our four kids on our farm in Oakley, where they attended local public schools, and I was a ten-year school board member. In 2014, I was appointed to the State Board of Education, serving a total of seven years— the final two as board president. After 25 years in educational leadership positions from the district to state levels, I'm prepared and excited to serve as superintendent.
Education is a state constitutional obligation, and our kids, teachers, and parents deserve nothing but the very best in our educational system. Skills and job-readiness are the core of my vision for Idaho education. That starts with the fundamentals and continues as we prepare Idaho kids for their careers and develop independent and engaged citizens.
My goal is to provide effective and transparent education leadership, and I am working hard to put kids first and support great schools across Idaho.
Please feel free to reach out to me or the Idaho Department of Education team!
Sincerely,

Debbie Critchfield
Superintendent of Public Instruction
---