The goal of Student Transportation is to provide eligible Idaho students with safe, effective, and efficient transportation to and from school in accordance with federal and state mandates. The Idaho Department of Education Student Transportation department gives expertise and technical assistance to districts and charter schools regarding school bus maintenance, operations, and financial reimbursement.
It is the responsibility of Student Transportation to provide these services economically and in accordance with sound management policies and procedures. Student Transportation is an integral part of the total educational system, contributing significantly to the learning process by providing safe and dependable transportation.
Every school year, about 109,000 of Idaho's children rely on bus services to attend school. Buses travel more than 25 million miles each year. Every school day, more than 3,400 buses travel more than a total of 140,000 miles to transport students to and from home to ensure their participation in academic programs. Transportation programs are operated by 112 Idaho school districts, 23 charter schools, and 3 in-lieu schools.
---
---
HIGHLIGHTS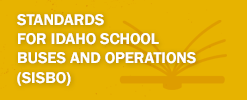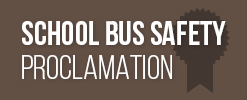 Frequently Asked Questions
Districts/Charters
Parents
Training Resources
General Training
Training Manuals
Videos