Assessment & Accountability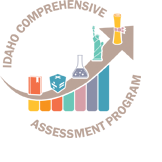 The Assessment & Accountability department measures and improves student achievement by identifying areas needing intervention, remediation, or acceleration. We also work to identify performance trends in student achievement and student growth over time across grade levels tested. Below are department areas to help assist you.
COVID-19 Standardized Testing Requirements Waiver Feedback
The COVID-19 pandemic has taken an emotional and toll on our school communities with significant disruptions to classroom learning that will affect Idaho's ability to administer assessments and produce valid results used for accountability. When students and educators return to school later this spring, the Superintendent and State Board of Education recognize schools will be prioritizing the social-emotional needs of their students, and providing high quality learning opportunities that prepare them for the following year. The Department of Education has submitted our waver for standardized testing requirements, accountability determinations and some reporting requirements. Our waiver, although already approved, requires an opportunity for our public to provide feedback or comments.
We invite you to share your feedback through April 15, 2020. A summary of the feedback and public comments will be shared with the State Board of Education.
---
HIGHLIGHTS


---
DEPARTMENT AREAS