Assessment & Accountability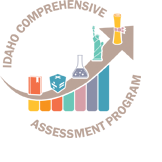 The Assessment & Accountability department measures and improves student achievement by identifying areas needing intervention, remediation, or acceleration. We also work to identify performance trends in student achievement and student growth over time across grade levels tested. Below are department areas to help assist you.
Using Interim Assessments to Support Remote Teaching and Learning
Right now, more than ever, teachers need access to high-quality, accessible, and flexible resources to support their students while teaching remotely and while their students are learning outside of the traditional classroom. Idaho is fortunate to have a balanced assessment system that provides teachers with resources to measure students' mastery of specific content and skills and support formative assessment process.
The Digital Library and Interim Assessments in ELA and Math are designed to support teaching and learning in flexible ways. Teachers are encouraged to continue to use the interim assessments and formative resources as tools to plan their instruction and determine how to help their students learn.
---
HIGHLIGHTS


---
DEPARTMENT AREAS