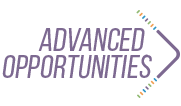 Advanced Opportunities allow for students to individualize their high school learning plan to get a jump start on their future. These options include dual credit, workforce training, certification exams, Advanced Placement, and International Baccalaureate programs.
The Advanced Opportunities program can provide funding for students who want to take advanced course work while attending an Idaho public school in grades 7-12.
Students interested in pursuing Advanced Opportunities may be overwhelmed with the application process and college-level terminology. Here are some helpful tips for success:
Meet with the school counselor/college and career advisor
The school district will have Advanced Opportunities available locally. By meeting with a counselor, students can learn more about individual career development and academic planning.
Develop a learning plan
Having a plan sketched out is critical to effectively taking advantage of Advanced Opportunities. A learning plan should include high school courses needed for graduation, and could include courses such as dual credit, workforce training or other advanced course work. This should be a fluid document because long term goals are likely to change. Thoughtful and intentional planning will help ensure that the credits earned will apply toward the certificate or degree intended.
Contact Colleges/Universities
Idaho colleges have personnel available to assist you in planning for the transition between high school and college. Reach out to the dual credit offices across the state to learn about the options available for high school students. Do not feel limited to just local college, as many colleges/universities have both online and satellite campuses.
Create an Advanced Opportunities account
By creating an account, a student will be able to track where funds are, request payment for courses and exams, and view the status of payments. Accounts must be activated by their school before funds are allocated. Students should check with their local school district to learn more about the local application process for Advanced Opportunities funding.
Advanced Opportunities
The Advanced Opportunities program provides every student attending an Idaho public school an allocation of $4,125 to use towards Advanced Opportunities in grades 7-12. The funds can be used for a variety of offerings:
Overload Courses
An overload course is a high school level course that is taken in excess of the student's regular school day. These courses are offered online, during the summertime, and before/after school. In the event that student incurs a cost for such courses, the Advanced Opportunities program can pay up to $225 for the cost of the course. Overload courses must be above and beyond the full course load (minimum of 12 credits) offered by the student's local school.
Dual Credits
Dual credit are courses taken by high school students that are transcribed on their high school and college transcripts. The Advanced Opportunities program can pay up to $75 per credit. Dual Credit courses can be taken online, by virtual conferencing, or in some cases students can go directly to the college/university campus. More information on specific Idaho colleges and universities can be found in the Links tab below.
Exams
Students can utilize Advanced Opportunities funds to pay for a variety of college-credit bearing or career-technical exams. These include Advanced Placement (AP), International Baccalaureate (IB), College Level Examination Program (CLEP), or Career & Technical Education (CTE) exams.
Workforce Training
Students can utilize Advanced Opportunities funds to pay for regionally approved workforce training courses at an Idaho public college in their area. Up to $500 per course or $1000 a year can be utilized for these courses. View approved workforce training courses for more details.
Challenging Courses
Many school districts provide options for students to challenge courses for credit. In most cases, this means that a student would request to challenge a course by taking an exam. If the student meets the level of mastery set by the local school board for a given set of standards, the school can grant the student a high school credit without requiring the student take the course. Contact your local school district for a list of courses eligible for challenge under Advanced Opportunities.
Early Graduation Scholarship
Early Graduation Scholarships are available for high school students who graduate at least one full year early. These scholarships are equal to 35% of the Average Daily Attendance (ADA) for a given school year. This equates to roughly $1,800.
Scholarships can be used at Idaho public post-secondary institutions. The awarded amount will double for students who graduate two years early and will triple for students who graduate three years early. If a student elects not to attend a college or university immediately after high school, they will have to apply within two years of their high school graduation to utilize the scholarship before it expires.
New Staff Welcome Video
---
The Advanced Opportunities Support Team offers local and individualized assistance for school and district personnel.
Advanced Opportunities Support Videos


Documents and Manuals


Forms
Deadlines for Portal Submission
Term
Request Funding Window
Verification Deadline
Submission Deadline
Summer 2023
April 7 – June 23, 2023
August 18, 2023
August 25, 2023
Fall 2023 /
Trimester 1
April 7 – October 6, 2023
November 10, 2023
November 17, 2023
Spring 2024
Nov 20 – March 8, 2024
May 10, 2024
May 17, 2024
May 24, 2024
(exams)
Trimester 2
Nov 20 - March 8, 2024
May 10, 2024
May 17, 2024
May 24, 2024
Trimester 3
Nov 20 - April 5, 2024
May 10, 2024
May 17, 2024
May 24, 2024
* Student Access window may vary by district, please contact your school/district office for local dates.
HIGHLIGHTS




Resource Files
Getting Started
Approved Expenditures
Reporting
Newsletters
Frequently Asked Questions
Getting Started
Advanced Opportunities Programs
Training Resources
Professional Development
Resources Links
Program Information
Advanced Opportunities Programs
College Providers
Online College Courses