Information and Communication Technology
Information and Communication Technology is the study and ethical practice of facilitating learning and improving performance by creating, using, and managing applicable technological processes and resources.
---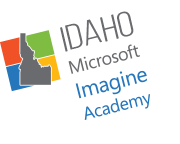 The Idaho The Idaho Microsoft Imagine Academy* is a special project designed to provide 21st Century foundational technology job skills for Idaho students and citizens as well as and Certiport certifications proving competency in those skills. The program is available to all public schools in Idaho as an opt-in basis.
Academy courses offer a wide variety of free on-line information technology education in software programs such as Word and Excel for Office 2010, 2013 or 2016. The courses also offer instruction in Powerpoint, Sharepoint, OneNote, Access, Outlook and Office 365, plus more sophisticated technical courses that can make graduates IT job-ready in some cases.
For students in grades 7-12 looking to build a resume, certifications that demonstrate knowledge or mastery of those programs are looked upon favorably by many employers since they provide proof of skills attained.
The instructional programs also are offered through many of Idaho's public libraries to help those adults wishing to improve their workforce opportunities and skills. The courses are designed for either self-paced or teacher-led instruction.
Registration for schools or public library site licenses
In order to formally commit to participation as an Idaho Microsoft Imagine Academy provider and receive a site license (for each school building/career center or public library that will be offering the program), Step 1 is to complete the Registration Form, save it and send a copy to Rick Kennedy.
You must then sign-in to become a Microsoft Imagine Academy Member.
*Microsoft Imagine Academy was formerly known as Microsoft IT Academy
---
Resource Files
Content Standards
Idaho Microsoft Academy
Frequently Asked Questions
Idaho Microsoft Academy
Training Resources
ISEE Portal Training
Idaho Microsoft Academy